TOWN OF ORANGETOWN JUSTICE COURT - DWI, CRIMINAL DEFENSE AND TRAFFIC TICKET LAWYER
The Town of Orangetown Justice Court is located at 26 Orangeburg Road, Orangeburg, New York 10962 – Rockland County (845-359-5100.) The police agencies making DWI and Criminal arrests and issuing Traffic Tickets are: Town of Orangetown Police Department, New York State Police, Rockland County Sheriff's Department and New York State Park Police.
Located just north of the New Jersey border of the Palisades Interstate Parkway, the Court handles a large volume of Speeding and Traffic tickets written by the New York State Police. In addition, the State Police make numerous DWI and Drug arrests on this portion of the Parkway (exits 5N, 5S, 6E & 6W.) The speed limit in the Parkway from the George Washington Bridge to the New York State Thruway is 55 miles per hours (which includes the entire Town of Orangetown potion of the Parkway.)
In addition to the Palisades Parkway, the Town Court handles cases occurring in the unincorporated hamlets of the Town of Orangetown: Blauvelt, Orangeburg, South Nyack, Pearl River, Palisades, Sparkill and Tappan. Although located within the Town of Orangetown, the Villages of Nyack, Piermont and Grandview-on-Hudson maintain their own Justice Courts.
The Court has two sitting Town Justices, each elected to four-year terms: Hon. Richard C. Finning and Hon. Patrick J. Loftus. Criminal and DWI cases are prosecuted by the Rockland County District Attorney's Office and the Town Attorney prosecutes tickets written by the New York State Police. Tickets written by any other law enforcement agency, including the Town of Orangetown Police Department are prosecuted by the individual police officers.
As an attorney and former prosecutor practicing in Rockland County, New York, I appear before the Town of Orangetown Justice Court on a regular basis. Although anyone charged with a crime (including DWI) or a violation of the New York State Penal Law must personally appear before the Court, did you know that most speeding and traffic tickets can be handled by my office without the client ever needing to appear in Court?
If you or a loved one find yourself in need of an attorney in the Town of Orangetown, Rockland County or anywhere in the State of New York, please call my office at 845-638-9200 for a free consultation.
Brian Berkowitz, is a former prosecutor and a DWI, Criminal Defense and Traffic Ticket Attorney representing clients in Rockland County and the State of New York.
Law Office of Brian Berkowitz, 222 North Main Street, New City, NY 10956. 845-638-9200.
WEB: www.Berklaw.com
TWITTER: @BerklawBrian
FACEBOOK: Law Office of Brian Berkowitz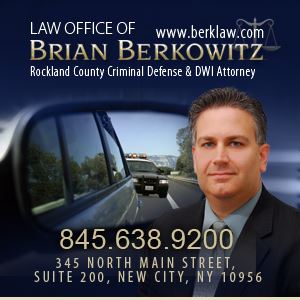 Posted By
Brian Berkowitz
Categories: