CONSEQUENCES OF A TRAFFIC TICKET IN NEW YORK STATE
Isn't it ironic how the colors blue and red are a symbol of freedom until they're flashing in your rear-view mirror? There is no question that receiving a traffic ticket can be a nerve-wracking experience since the usual consequences include points on your driving record, fines, and the possibility of skyrocketing insurance premiums. All too often people simply pay the fine and move on with their life, but what many people don't realize is that they have the legal right to fight their ticket in traffic court and possibly avoid the consequences that would be associated with a guilty plea.
Once you pay your ticket, you are admitting guilt and you can expect to pay the fines, accrue additional points on your record and inch yourself one step closer to a suspended license. In New York, the majority of traffic violations carry what are called violation points and the more serious the violation, the more points that are added to your driving record. Once a person accrues 11 or more violation points in an 18 month period, their license will be suspended.
For those who commit three misdemeanor and/or speeding traffic violations within 18 months, their driver's license will be revoked for a minimum of six months. New drivers are put on probation for six months after they pass their road test; therefore, if a new driver is found guilty of committing any two moving violations during their probationary period, their license will be suspended for 60 days. If a new driver is found guilty of committing a serious violation during their probationary period such as speeding, tailgating, reckless driving or unauthorized racing, then their license can also be suspended for 60 days.
It's not difficult to accrue 11 or more points within an 18 month period especially if you are found guilty of reckless driving (5 points), or speeding 21 to 30 mph above the speed limit (6 points), or tailgating (4 points).
In Rockland County, traffic cases are heard at a variety of different Justice Courts including: Town of Clarkstown, Town of Orangetown, Town of Ramapo, Town of Stony Point, Town of Haverstraw, Village of Chestnut Ridge, Village of South Nyack, Village of Suffern and Village of Sloatsburg (click here for a complete list of Rockland County Courts.)
Once you are issued at ticket, the worst thing you can do is ignore it, as the failure to answer a ticket within the time frame allowed will result in the suspension of your driving privileges. You could be found guilty of the charge because of your failure to respond, this is called a default conviction. Your driver's license would be suspended for not paying the fine and a judgment would be entered against you, thus placing a negative mark on your credit. What's more, driving on a suspended license in the State of New York is a misdemeanor, which means that if you are convicted of this offense, you will have a criminal record and be subjected to a variety of sanctions, including fines, probation and jail.
If you wish to fight your traffic ticket, having the assistance of a Rockland County traffic ticket lawyer can make a world of difference in the outcome of your case. In most instances, hiring my office to defend you means that you will never have to personally appear in Court. Contact the Law Office of Brian Berkowitz today if you need assistance fighting your traffic ticket in Rockland County or the State of New York!
Brian Berkowitz, is a former prosecutor and a DWI, Criminal Defense and Traffic Ticket Attorney representing clients in Rockland County and the State of New York.
Law Office of Brian Berkowitz, 222 North Main Street, New City, NY 10956. 845-638-9200.
WEB: www.Berklaw.com
TWITTER: @BerklawBrian
FACEBOOK: Law Office of Brian Berkowitz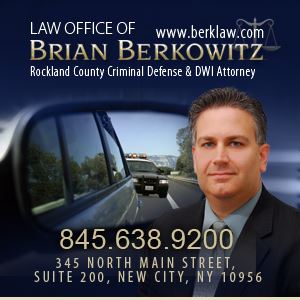 Posted By
Law Office of Brian Berkowitz
Categories: