DRUNK DRIVING, DRIVE SOBER OR GET PULLED OVER - NEW YORK DWI
The New York State Police report (see press release) that "a recent two-week statewide campaign by troopers to crack down on impaired drivers resulted in the arrests of 663 people for driving while intoxicated" as part of the national "Drunk Driving, Drive Sober or Get Pulled Over" campaign, which ran from August 15, 2014 through September 1, 2014.
Throughout this campaign, the New York State Police targeted impaired and distracted driving (cell phone use and texting – Sec. 1225(c)&(d) Vehicle and Traffic Law), speeding, "move over" violations (Sec. 1144(a)&(b) Vehicle and Traffic Law) and seat belt violations.
Specifically, it is reported that during the Labor Day Weekend (August 29, 2014 through September 1, 2014), they arrested 168 people for DWI and issued 9,000 tickets. A breakdown of these tickets is as follows:
• Speed: 3,094 tickets;
• Seat Belt: 497 tickets;
• Move Over Law: 153 tickets; &
• Distracted Driving (cell phone and texting): 168
It should be noted that many DWI arrests begin with a simple traffic stop for one of the above offenses. In Rockland County, the majority of these New York State Police DWI arrests and tickets are for offenses occurring on the Palisades Interstate Parkway, New York State Thruway and the portion of the thruway, just before the Garden State Parkway in Chestnut Ridge, New York.
If you are facing a DWI charge, have received a traffic ticket or been arrested in Rockland County or the State of New York, please me a call at 845-638-9200 to discuss how I can help you.
Brian Berkowitz, is a former prosecutor and a DWI, Criminal Defense and Traffic Ticket Attorney representing clients in Rockland County and the State of New York.
Law Office of Brian Berkowitz, 222 North Main Street, New City, NY 10956. 845-638-9200.
WEB: www.Berklaw.com
TWITTER: @BerklawBrian
FACEBOOK: Law Office of Brian Berkowitz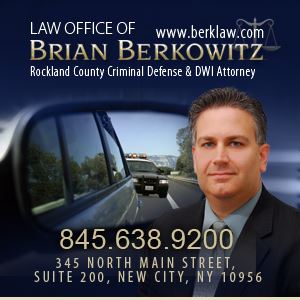 Posted By
Brian Berkowitz
Categories: