TIPS FOR AVOIDING A DISTRACTED DRIVING TICKET
At one point or another, we've all been guilty of it: at stop sign, or a slow point in traffic, or even traveling down the highway, we've glanced at our phones. While it may seem harmless, distracted driving can lead to dangerous accidents and lawmakers are beginning to crackdown on offenders. Talking or texting tickets can lead to fines and five points on a driving record if you are ticketed in the state of New York.
These kinds of tickets can be easily avoided, however. While our smartphones seem like an omnipresent part of our lives—even in the car—there are ways to ensure that you can safely make your trip while still enjoying any relevant functionality on your phone and avoiding tickets.
Some distracted driving tips to keep in mind:
Utilize your Bluetooth: most new car and stereo models are Bluetooth enabled, which means that phone and music streaming functions can happen hands-free. Hands-free phone conversations are still legal in New York, so if you must take a call on the road, using Bluetooth is the safest way possible.
Set your GPS first: if you are using GPS in your phone (like Google Maps, Apple Maps, Waze, etc.) set your route and mount your phone before getting your car moving. Fumbling with this functionality during your trip can be dangerous and if you need to make an adjustment with your settings, pull over first.
Buy a phone mount: if you are using your Bluetooth or GPS functionality on your phone, then use a mount to attach it to your vent or windshield. Too many drivers keep their phone in their center console or lap while using these functions, which means their eyes are continually being taken off the road to look at directions or incoming calls. Having your phone at eye level with the road is significantly safer.
Silence your phone: it can be hard to resist the temptation of looking at your phone while driving if you are receiving notifications of incoming texts or other activity. You can remove this temptation by silencing your phone before getting on the road.
Keep phone out of sight: in addition to silencing your phone, some drivers may find it easier to resist temptation by keeping it in your pocket or purse during your trip. Also consider the fact that New York driving laws allow law enforcement to assume that you are using your phone even if you are just seen holding it "conspicuously." Keeping your phone tucked away until the end of your trip is the most effective way to ensure that both you and police do not notice your phone during your drive.
If you have been ticketed for a distracted driving, explore your options before submitting to penalties. Call the Law Office of Brian Berkowitz (845-638-9200) today to speak with an experienced and proven Rockland County traffic ticket attorney about your infraction today.
The firm is ready to offer you a free case evaluation.
WEB: www.Berklaw.com
TWITTER: @BerklawBrian
FACEBOOK: Law Office of Brian Berkowitz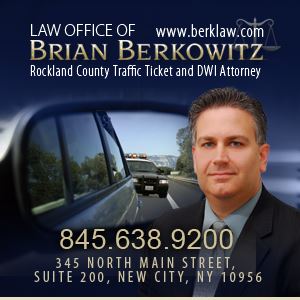 Posted By
Law Office of Brian Berkowitz
Categories: