MY TEENAGER WAS ARRESTED FOR SHOPLIFTING.
In any given week, I receive a call from the parent of a teenager seeking legal advice because their son or daughter is charged with Petit Larceny (Shoplifting.) For the most part, although not always, this is the first time these families have been involved with the criminal justice system and they simply want to know if their child's decision will effect them for the rest of their lives.
In Rockland County, the opening of the Palisades Center Mall (Town of Clarkstown, West Nyack, NY) in 1998 was a major addition to the shopping options of those living in Rockland County and also brought in many shoppers from Westchester and Orange Counties, as well as New York City and New Jersey. Like most suburban shopping malls, it quickly became a magnet for teenagers to shop, hang out and unfortunately, shoplift.
In New York State the theft of property valued at less than $1,000.00 is charged as a Petit Larceny pursuant to section 155.25 of the Penal Law (class "A" misdemeanor.) In addition, the concept of theft also goes hand in hand with possession, so it is also likely that someone committing this offense will also be charged with Criminal Possession of Stolen Property in the Fifth Degree pursuant to section 165.40 of the Penal Law. The combination of each of these misdemeanor charges is generally what most teenagers charged with simple theft face in these instances.
Once charged, the offender is either taken to the police station and processed or simply given an appearance ticket to appear in Court on a later date. These charges also require that the offender be fingerprinted and photographed.
It should be noted that anyone sixteen (16) years of age or older will have their case heard in Criminal Court.
Fortunately, an arrest does not always lead to a criminal record. Depending on the facts of the case, there are options available to protect teenagers (and adults) from paying for these lapses in judgment for the rest of their lives.
As an experienced Criminal Defense Attorney and former Rockland County prosecutor (Senior Assistant District Attorney), I have handled countless shoplifting charges in Rockland County and throughout the State of New York and welcome the opportunity to help you and your family through this difficult time.
Brian Berkowitz, is a former prosecutor and a DWI, Criminal Defense and Traffic Ticket Attorney representing clients in Rockland County and the State of New York.
Law Office of Brian Berkowitz, 222 North Main Street, New City, NY 10956. 845-638-9200.
WEB: www.Berklaw.com
TWITTER: @BerklawBrian
FACEBOOK: Law Office of Brian Berkowitz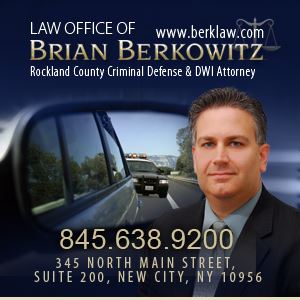 Posted By
Brian Berkowitz
Categories: