TOWN OF CLARKSTOWN JUSTICE COURT - DWI, TRAFFIC/SPEEDING TICKET & CRIMINAL DEFENSE LAWYER
The Town of Clarkstown Justice Court, located at 20 Maple Avenue, New City, New York (Rockland County), is said to be one of the largest courts, in terms of criminal cases handled in the State of New York. With four sitting judges, criminal cases are heard on Monday and Wednesday each week (there are generally two sessions on each these days: 9:30 a.m. and 1:30 p.m.)
I have appeared before the Court countless times since 1998, both as a prosecutor and a DWI and Criminal Defense Attorney; the Court is located approximately one and a half (1 ½) miles from my New City, New York office. Based upon my experience before the Court and my proximity to the Court, I appear there on a weekly basis representing clients charged with Driving While Intoxicated (misdemeanor and felony DWI charges), Criminal matters (Shoplifting, Petit Larceny, Grand Larceny, Marijuana, Drug Possession, etc…) and violations of the Vehicle and Traffic Law (Traffic and Speeding Tickets, Suspended License charges, Reckless Driving, Cell Phone tickets, Texting While Driving tickets, etc…)
In that portions of the New York State Thruway and the Palisades Interstate Parkway run through the Town of Clarkstown, the Court hears a high number of DWI and Vehicle and Traffic Law violations. In addition, the Town is the home of two major shopping malls: The Palisades Center Mall (West Nyack, New York) and The Shops at Nanuet (located on the site of the former Nanuet Mall).
Both of these malls account for a substantial amount of retail related crimes each year, examples of which are: Petit Larceny, Grand Larceny, Criminal Possession of Stolen Property, Identity Theft, Forgery & Criminal Possession of Forged Instruments.
Although members of the Town of Clarkstown Police Department generally patrol the malls and surrounding areas, arrests in the Town are also made by the Rockland County Sheriff's Department, the New York State Police and the New York State Park Police.
In addition to the Palisades Parkway, New York State Thruway and the malls, the Court handles cases occurring in the Town's hamlets: Bardonia, Central Nyack, Congers, Nanuet, New City, Rockland Lake, Upper Nyack, Valley Cottage and West Nyack.
Although anyone charged with a crime (including DWI) or a violation of the New York State Penal Law must personally appear before the Court, did you know that most speeding, traffic, cell phone and texting while driving tickets can be handled by my office without the client ever having to appear in Court?
If you or a loved one find yourself in need of an attorney in the Town of Clarkstown, Rockland County or anywhere in the State of New York, please call my office at 845-638-9200 for a free consultation.
www.RocklandCriminalDefense.com
www.RocklandSpeedingTicket.com
Brian Berkowitz, is a former prosecutor and a DWI, Criminal Defense and Traffic Ticket Attorney representing clients in Rockland County and the State of New York.
Law Office of Brian Berkowitz, 222 North Main Street, New City, NY 10956. 845-638-9200.
WEB: www.Berklaw.com
TWITTER: @BerklawBrian
FACEBOOK: Law Office of Brian Berkowitz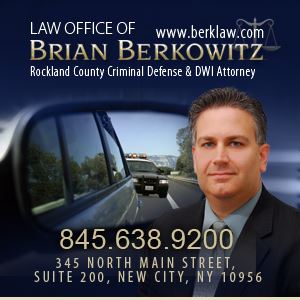 Posted By
Brian Berkowitz
Categories: