DO I REALLY NEED A LAWYER FOR MY DWI CASE? - ROCKLAND COUNTY DWI ATTORNEY
UPDATED ON FEBRUARY 16, 2022
When I was in law school, a well-respected professor told me that he would rather handle a murder case than a DWI case. This, to me, was a bold and surprising statement. More than 20 years later, I have heard similar statements made by other well-respected legal professionals and I now have a good understanding of the facts supporting the position of these skilled attorneys.
Unlike many other criminal charges, the defense of driving while intoxicated cases is a multifaceted proposition. In most circumstances, a typical criminal case begins and ends in the criminal courtroom with not much in between. However, the defense of an alcohol related driving offense (DWI, DWAI, DUI, etc…) is a war fought on multiple fronts.
Living in the suburbs (where I practice), with limited access to public transportation, most people take their driving privileges for granted until they are faced with their first court appearance in a DWI case. In almost all circumstances, a judge sitting in the State of New York must suspend the driving privileges of an individual accused of driving while intoxicated.
In the case of an individual who agrees to submit to a chemical test (breath, blood or urine) following their arrest, the law in the State of New York mandates that if the defendant's blood alcohol concentration was .08 or higher, their driving privileges must be suspended pending prosecution pursuant to New York's Prompt Suspension Law at their arraignment (usually the first Court appearance).
Moreover, in cases where the individual is alleged to have refused to submit to a chemical test (breath, blood or urine), the Court must suspend their driving privileges at their arraignment and schedule a Chemical Test Refusal Hearing with a New York State Department of Motor Vehicles Administrative Law Judge.
Although a person whose driving privileges are suspended pursuant to the Prompt Suspension Law may be entitled to request a Hardship Driving Privilege (which at a minimum will allow them to drive to and from work and/or school,) this is not the case where a refusal to submit to a chemical test is alleged.
In this situation, the judge is required to schedule a Chemical Test Refusal Hearing at DMV within fifteen days of the driving privilege being suspended. During the period between the first court appearance and the appearance before DMV, the individual cannot lawfully operate a motor vehicle under any circumstances (and faces criminal prosecution if caught driving in violation of the court order). Once they appear at DMV, they are at risk of losing their driving privileges for at least one year (or longer if there are prior alcohol related driving convictions on their record).
In both circumstances, the driver may be entitled to a conditional license (citation). However, in the case of a chemical test refusal, this cannot be accomplished until there is an alcohol related driving conviction in criminal court (which can take time to resolve, leaving the driver without any driving privileges while the matter moves through the court system.)
Making matters even more difficult and following a DMV finding that a driver refused to submit to a chemical test, should they be so fortunate to have their criminal case dismissed, they will not be able to get a conditional license (again, to be eligible for a conditional license, there must be a alcohol related driving disposition in criminal court) and will have to sit out the entire revocation period without being able to lawfully drive.
Keeping in mind that this post is about the need for an attorney in a DWI case and not about losing or keeping driving privileges, I could dedicate the remainder of my writing to the numerous reasons for retaining an experienced DWI attorney.
Remember, what I described above, for the most part, only covers the first court appearance and the fifteen-day period that follows (in the case of a refusal). It is not surprising that when I am contacted by people that choose to attend their first court appearance without an attorney, they, for the most part, are usually blindsided by what took place.
Defending and advising a client in a DWI case requires not only extensive knowledge of the New York State Vehicle and Traffic Law, Criminal Procedure Law, and local court procedures, it also requires experience with the administrative procedures of the New York State Department of Motor Vehicles (which in these matters, are growing less driver friendly by the day) and the areas in which many of these bodies of law and procedure intersect.
Further, when thinking about heading to Court without an attorney, the unrepresented DWI defendant should consider the following:
How do I request a hardship driving privilege and am I eligible for one?
What is an ignition interlock device and will I eventually be ordered to have one installed?
Will multiple alcohol related driving convictions subject me to DMV regulations imposing an extended or permanent loss of my driving privileges?
What is a driver responsibility assessment?
Will I have a criminal record if I am found guilty of these charges?
What is the New York State Drinking Driver Program?
What is an OASAS evaluation and how do I go about getting one?
Can I be incarcerated as a result of these charges and will I have to post bail?
When can a DWI charge be a felony?
If I am an out-of-state driver, how will these charges and a potential conviction impact my driving privileges in New York and my home state?
While the above list could go on and on, the point to be taken away from this is that a DWI arrest is a serious matter with serious consequences that should never be taken lightly. Consulting with an experienced DWI attorney prior to the first court appearance, at a minimum, will prepare you for what to expect in court and what can be done to defend you against these charges.
Having spent the majority of my legal career involved in the prosecution and defense of DWI cases, I welcome you to explore my website, learn about my background as an attorney and contact me to discuss your DWI case (or any other matter requiring the services of a Rockland County Criminal Defense Attorney).
Brian Berkowitz, is a former prosecutor and a DWI, Criminal Defense and Traffic Ticket Attorney representing clients in Rockland County and the State of New York.
Law Office of Brian Berkowitz, 222 North Main Street, New City, NY 10956. 845-638-9200.
WEB: www.Berklaw.com
TWITTER: @BerklawBrian
FACEBOOK: Law Office of Brian Berkowitz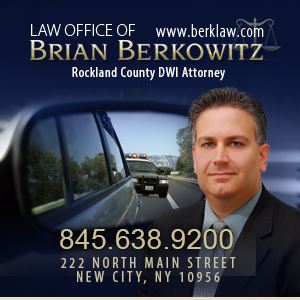 ROCKLAND COUNTY COURTS
Airmont Village Court, 251 Cherry Lane, Tallman, NY 10982 - 845-357-3980 (Airmont Speeding Ticket Lawyer)
Chestnut Ridge Village Court, 277 Old Nyack Turnpike, Chestnut Ridge, NY 10977 - 845-425-3108 (Chestnut Ridge Speeding Ticket Lawyer)
Clarkstown Town Court, 20 Maple Avenue, New City, NY 10956 - 845-639-5960 (Clarkstown Speeding Ticket Lawyer)
Grand View-on-Hudson Village Court, 118 River Road, Grand View Hudson, NY 10960 - 845-358-2919 (Grandview on Hudson Speeding Ticket Lawyer)
Hillburn Village Court, 31 Mountain Avenue, Hillburn, NY 10931 - 845-357-2036 (Hillburn Speeding Ticket Lawyer)
Haverstraw Town Court, One Rosman Road, Garnerville, NY 10923 - 845- 947-0020 (Haverstraw Speeding Ticket Lawyer)
Haverstraw Village Court, 40 New Main Street, Haverstraw, NY 10927 - 845-947-4063 (Haverstraw Speeding Ticket Lawyer)
Montebello Village Court, 1 Montebello Road, Montebello, NY 10901 - 845-368-2211 (Montebello Speeding Ticket Lawyer)
New Hempstead Village Court, 108 Old Schoolhouse Road, New City, NY 10956 - 845-354-8100 (New Hempstead Speeding Ticket Lawyer)
New Square Village Court, 766 North Main Street, Spring Valley, NY 10977 - 845-354-5778 (New Square Speeding Ticket Lawyer)
Nyack Village Court, 9 North Broadway, Nyack, NY 10960 - 845-358-4464 (Nyack Speeding Ticket Lawyer)
Orangetown Town Court, 26 Orangeburg Road, Orangeburg, NY 10962 - 845-359-5100 (Orangetown Speeding Ticket Lawyer)
Piermont Village Court, 478 Piermont Avenue, Piermont, NY 10968 - 845-359-0345 (Piermont Speeding Ticket Lawyer)
Ramapo Town Court, 237 Route 59, Suffern, NY 10901 - 845-357-5100 (Ramapo Speeding Ticket Lawyer)
Sloatsburg Village Court, 96 Orange Turnpike, Sloatsburg, NY 10974 - 845-753-5506 (Sloatsburg Speeding Ticket Lawyer)
South Nyack Village Court, 282 South Broadway, South Nyack, NY 10960 - 845-358-5078 (South Nyack Speeding Ticket Lawyer)
Spring Valley Village Court, 200 North Main Street, Spring Valley, NY 10977 - 845-352-1100 (Spring Valley Speeding Ticket Lawyer)
Stony Point Town Court, 6 Patriot Hills Drive, Stony Point, NY 10984 - 845- 786-2506 (Stony Point Speeding Ticket Lawyer)
Suffern Village Court, 61 Washington Avenue, Suffern, NY 10901 - 845-357-6424 (Suffern Speeding Ticket Lawyer)
Wesley Hills Village Court, 432 Route 306, Wesley Hills, NY 10952 - 845-354-0404 (Wesley Hills Speeding Ticket Lawyer)
West Haverstraw Village Court, 130 Samsondale Avenue, West Haverstraw, NY 10993 - 845-947-1013 (West Haverstraw Speeding Ticket Lawyer)
WESTCHESTER COUNTY COURTS
Ardsley Village Court, 507 Ashford Avenue, Ardsley, NY 10502 - (914) 693-1703 (Ardsley Speeding Ticket Lawyer)
Bedford Town Court, 321 Bedford Road, Bedford Hills, NY 10507 - (914) 666-6965 (Bedford Speeding Ticket Lawyer)
Briarcliff Manor Village Court, 1111 Pleasantville Road, Briarcliff Manor, NY 10510 - (914) 944-2788 (Briarcliff Manor Speeding Ticket Lawyer)
Bronxville Village Court, 200 Pondfield Road, Bronxville, NY 10707 - (914) 337-2454 (Bronxville Speeding Ticket Lawyer)
Buchanan Village Court, 236 Tate Avenue, Buchanan, NY 10511 - (914) 737-1033 (Buchanan Speeding Ticket Lawyer)
Cortlandt Town Court, One Heady Street, Cortlandt Manor, NY 10566 - (914) 734-1090 (Cortlandt Speeding Ticket Lawyer)
Croton-on-Hudson Village Court, 1 Van Wyck Street, Croton-on-Hudson, NY 10520 - (914) 271-6266 (Croton on Hudson Speeding Ticket Lawyer)
Dobbs Ferry Village Court, 112 Main Street, Dobbs Ferry, NY 10522-1610 - (914) 693-6161 (Dobbs Ferry Speeding Ticket Lawyer)
Eastchester Town Court, 40 Mill Road, Eastchester, NY 10709 - (914) 771-3354 (Eastchester Speeding Ticket Lawyer)
Elmsford Village Court, 15 South Stone Avenue, Elmsford, NY 10523-3699 - (914) 592-6555 (Elmsford Speeding Ticket Lawyer)
Greenburgh Town Court, 188 Tarrytown Road, White Plains, NY 10607 - (914) 989-1875 (Greenburgh Speeding Ticket Lawyer)
Harrison Town Court, 1 Heineman Place, Harrison, NY 10528-3305 - (914) 835-2000 (Harrison Speeding Ticket Lawyer)
Hastings-on-Hudson Village Court, 7 Maple Avenue, Hastings-on-Hudson, NY 10706 - (914) 478-3403 Hastings on Hudson Speeding Ticket Lawyer)
Irvington Village Court, 85 Main Street, Irvington, NY 10533 - (914) 591-7095 (Irvington Speeding Ticket Lawyer)
Larchmont Village Court, 120 Larchmont Avenue, Larchmont, NY 10538 - (914) 834-1826 (Larchmont Speeding Ticket Lawyer)
Lewisboro Town Court, 79 Bouton Road, South Salem, NY 10590 - (914) 763-5417 (Lewisboro Speeding Ticket Lawyer)
Mamaroneck Town Court, 740 West Boston Post Road, Mamaroneck, NY 10543 - (914) 381-7875 (Mamaroneck Speeding Ticket Lawyer)
Mamaroneck Village Court, 169 Mt Pleasant Avenue, Mamaroneck, NY 10543-0369 - (914) 777-7710 (Mamaroneck Speeding Ticket Lawyer)
Mount Kisco Town Court, 40 Green Street, Mount Kisco, NY 10549-2300 - (914) 241-7033 (Mount Kisco Speeding Ticket Lawyer)
Mount Pleasant Town Court, 1 Town Hall Plaza, Valhalla, NY 10595 - (914) 742-2324 (Mount Pleasant Speeding Ticket Lawyer)
Mount Vernon City Court, 2 Roosevelt Square North, 2nd Floor, Mount Vernon, NY 10550 - (914) 831-6440 (Mount VernonSpeeding Ticket Lawyer)
New Castle Town Court, 200 S Greeley Ave, Chappaqua, NY 10514 - (914) 238-4726 (New Castle Speeding Ticket Lawyer)
New Rochelle City Court, 475 North Street, New Rochelle, NY 10801 - (914) 358-8000 (New Rochelle Speeding Ticket Lawyer)
​North Castle Town Court, 15 Bedford Road, Armonk, NY 10504 - (914) 273-8627 (North Castle Speeding Ticket Lawyer)
North Salem Town Court, 66 June Road, PO Box 365, North Salem, NY 10560 - (914) 669-9691 (North Salem Speeding Ticket Lawyer)
Ossining Town Court, 86 Spring Street, Ossining, NY 10562 - (914) 762-8562 (Ossining Speeding Ticket Lawyer)
Ossining Village Court, 86 Spring Street, Ossining, NY 10562 - (914) 562-7710 (Ossining Speeding Ticket Lawyer)
Peekskill City Court, 2 Nelson Avenue, Peekskill, NY 10566 - (914) 831-6480 (Peekskill Speeding Ticket Lawyer)
Pelham Town Court, 34 Fifth Avenue, Pelham, NY 10803 - (914) 738-7030 (Pelham Speeding Ticket Lawyer)
Pleasantville Village Court, 80 Wheeler Avenue, Pleasantville, NY 10570 - (914) 769-2027 (Pleasantville Speeding Ticket Lawyer)
Port Chester Village Court, 350 North Main Street, Port Chester, NY 10573 - (914) 939-8220 (Port Chester Speeding Ticket Lawyer)
Pound Ridge Town Court, 179 Westchester Avenue, Pound Ridge, NY 10576 - (914) 764-5511 (Pound Ridge Speeding Ticket Lawyer)
Rye City Court, 21 McCullough Place, Rye, NY 10580 - (914) 831-6400 (Rye Speeding Ticket Lawyer)
Rye Town Court, 350 North Main Street, Port Chester, NY 10573 - (914) 939-3305 (Rye Speeding Ticket Lawyer)
Scarsdale Town Court, 1001 Post Road, Scarsdale, NY 10583-4303 - (914) 722-1120 (Scarsdale Speeding Ticket Lawyer)
Scarsdale Village Court, 1001 Post Road, Scarsdale, NY 10583-4303 - (914) 722-1120 (Scarsdale Speeding Ticket Lawyer)
Sleepy Hollow Village Court, 28 Beekman Avenue, Sleepy Hollow, NY 10591 - (914) 631-2783 (Sleepy Hollow Speeding Ticket Lawyer)
Somers Town Court, 335 Route 202, Somers, NY 10589 - (914) 277-8225 (Somers Speeding Ticket Lawyer)
Tarrytown Village Court, One Depot Plaza, Tarrytown, NY 10591 - (914) 631-5215 (Tarrytown Speeding Ticket Lawyer)
Tuckahoe Village Court, 65 Main Street, Tuckahoe, NY 10707 - (914) 961-4787 (Tuckahoe Speeding Ticket Lawyer)
White Plains City Court, 77 South Lexington Avenue, White Plains, NY 10601 - (914) 824-5675 (White Plains Speeding Ticket Lawyer)
Yonkers City Court, 100 South Broadway, R.W. Cacace Justice Center, Yonkers, NY 10701 - (914) 831-6450 (Yonkers Speeding Ticket Lawyer)
Yorktown Town Court, 2295 Crompond Road, Yorktown Heights, NY 10598 - (914) 962-6216 (Yorktown Speeding Ticket Lawyer)
Posted By
Brian Berkowitz
Categories: