My Teenager Was Arrested For Driving While Intoxicated (DWI)
When our children are little, the parents of teenagers and young adults often tell us "just wait until they are older: Small Kids, Small Problems. Big Kids, Big Problems."
Unfortunately, many families realize the truth behind this statement in the form a late nigh/early morning telephone call from their child or the police informing them that they have been arrested for Driving While Intoxicated ("DWI").
The New York State Division of Criminal Justice Services ("DCJS") reports that in 2014, there were 30,286 arrests among 16 and 17 year olds in the State of New York. This number accounts for the total number of arrests of 16 and 17 year olds and consists of misdemeanor, non-violent and violent felony charges (link).
Although the term teenager is used in this discussion, it should be noted that a conviction for any alcohol or drug related driving offense (Sec. 1192 of the New York State Vehicle and Traffic Law) will trigger a one year driver's license revocation if the driver is under the age of twenty-one (21) at the time the offense is committed. For drivers twenty-one (21) and over (assuming no prior offenses), the potential license sanctions can be as short as a 90-day suspension (or longer, depending upon the specific charge for which they are convicted).
A driver convicted of a first time alcohol/drug related driving offense (unclassified misdemeanor) in the State of New York generally faces the same potential sanctions as an individual 21 years old or older (with the exception of license sanctions and the length of any potential jail sentence). In the case of a first time conviction for Driving While Intoxicated (Sec. 1192(3) Vehicle and Traffic Law), these sanctions may include:
A period of incarceration in a local jail;
Probation;
Conditional discharge;
Fine and surcharge;
License revocation for at least one (1) year;
Attendance at a DMV Impaired Driver Program;
Attendance at a Victim Impact Panel;
Installation and maintenance of an ignition interlock device in any motor vehicle they own or operate;
Restitution (where applicable);
An alcohol/substance abuse evaluation and completion of any recommended treatment.
In the case of a defendant being sentenced to jail, it should be noted that although the law authorizes a jail sentence in these cases, it is not a mandatory.
Moreover, the law also provides a potential additional layer of protection in the form of a "Youthful Offender" adjudication, when the person arrested is less than 19 years old on the date the crime is committed. Without a Youthful Offender adjudication, an individual convicted of Driving While Intoxicated will have a criminal record in the form of a misdemeanor conviction.
Further, and in certain instances, individuals under the age of twenty-one (21) may be charged with a violation of Sec. 1192-a of the Vehicle and Traffic Law, which is commonly referred to as Zero Tolerance. In this situation, the law simply states that "[n]o person under the age of twenty-one shall operate a motor vehicle after having consumed alcohol as defined in this section." Here, the term "consumed alcohol" means that their blood alcohol concentration was between .02 and .07. The decision to charge under the Zero Tolerance provision of the law is generally made by the police at the time of the arrest and based upon the criteria mentioned above.
Assuming that a teenager is charged under the Zero Tolerance section of the Vehicle and Traffic Law and is not also charged under Sec. 1192 (DWI, DWAI), their case bypasses criminal court and is handled administratively by the New York State Department of Motor Vehicles. Most importantly, and unlike those charged and convicted of DWI or DWAI in criminal court, "…[a] finding that a person under the age of twenty-one operated a motor vehicle after having consumed alcohol in violation of this section is not a judgment of conviction for a crime or any other offense." The penalties following a first time Zero Tolerance finding are a six (6) month suspension of the individuals driving privileges, a $125.00 civil penalty and a $100.00 suspension termination fee.
The field of DWI defense is a constantly evolving area of law with many pitfalls awaiting the uninitiated. Having spent the majority of my legal career involved in the prosecution and defense of DWI cases, I welcome you to explore my website, learn about my background as an attorney and contact me to discuss your DWI case (or any other matter requiring the services of a Rockland County Criminal Defense Attorney).
Brian Berkowitz, is a former prosecutor and a DWI and Criminal Defense Attorney representing clients in Rockland County and the State of New York.
Law Office of Brian Berkowitz, 222 North Main Street, New City, NY 10956. 845-638-9200.
WEB: www.Berklaw.com
TWITTER: @BerklawBrian
FACEBOOK: Law Office of Brian Berkowitz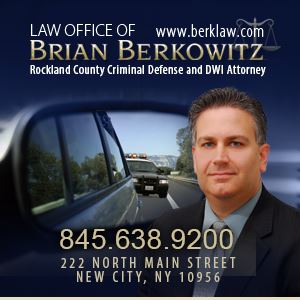 Posted By
Brian Berkowitz
Categories: