New York State Driver Responsibility Assessment And Out Of State Drivers
If you're reading this, chances are you're not happy. I know this, because several times a week, I receive a call from an out-of-state driver (most often New Jersey or Connecticut) who is bewildered by the letter they received from the New York State Department of Motor Vehicles informing them that because they plead guilty to a Speeding Ticket in the State of New York, they must now pay a Driver Responsibility Assessment ("DRA") in the amount of $100.00 a year (or more), for three years. Adding insult to injury, the letter further states that if they fail make these payments, their driving privileges, in the State of New York, will be suspended!
Per New York DMV's website, "[t]he purpose of the assessment is to prevent the repeated behavior of problem drivers and to improve traffic safety."
Section 503(4)(a) of the New York State Vehicle and Traffic Law states that "[a]ny person who accumulates six or more points on his or her driving record for acts committed within an eighteen month period shall become liable to the [New York State Department of Motor Vehicles] for payment of a driver responsibility assessment..."
This means that New York State DMV will charge a driver $100.00 per year for a three-year period for the first six points on a driver's record and an additional $25.00 per year for each additional point, regardless of where they are licensed.
By way of example, Matthew is stopped for speeding and given a speeding ticket accusing him of driving 76 miles per hour in a 55 mile per hour zone. In this instance the allegation of driving 21 miles above the speed limit translates into a 6 point ticket. Since he does not live in the State of New York, and doesn't want to have to take a day off of work, drive back to New York and go to court, he simply pleads guilty by mail. Thereafter, he receives a letter from the court informing him of the amount of the fine and surcharge. Matthew then pays the amount due and goes on with his life. Or does he?
Sometime after making the payment to the court, and to his surprise, he receives a bill from the New York State Department of Motor Vehicles directing him to send them $300.00, which can be made in one payment or $100.00 a year for the next three years. Of course, Matthew can choose not to pay this assessment. However, pursuant to Sec. 503(4)(d) of the New York State Vehicle and Traffic Law, "[if] a person shall fail to pay any driver responsibility assessment as provided in this subdivision, the commissioner shall suspend such person's driver's license or privilege of obtaining a license. Such suspension shall remain in effect until any and all outstanding driver responsibility assessments have been paid in full." Clearly, ignoring this assessment is not the best way to proceed.
With this in mind, what is an out-of-state driver to do? Once the Driver Responsibility Assessment is imposed, there are two options: (1) pay the assessment; or (2) hire an attorney to file a motion to withdraw the guilty plea. In either scenario, there is a cost to the driver. In the case of filing a motion, there is, of course, the additional expense of hiring an attorney and the realization that there is no guarantee that the court will grant the motion. Since the filing of a motion does not stop DMV's collection of the assessment, the driver will still need to pay, at least, the first assessment payment to avoid being suspended in New York.
Hindsight being 20/20, the more prudent decision is to speak with and hire an attorney as soon as the ticket is received. While no attorney can guarantee a specific result, the benefit of hiring an attorney, especially for an out-of-state driver, is that in most circumstances, they will never have to personally appear in court, as New York State law allows an attorney to appear without the client being present. Further, in many instances (at least, outside of New York City), a driver or their attorney will have the opportunity to resolve the matter with less or no points, thereby taking the Driver Responsibility Assessment out of the equation.
While the Driver Responsibility Assessment is clearly a "cash grab" for the State of New York, it's impact and expense is felt by all drivers utilizing the highways and byways in the State of New York, including those licensed by other states.
If you receive a Traffic or Speeding Ticket in Rockland County or the State of New York, or have plead guilty and are now required to pay a Driver Responsibility Assessment, please take a minute and give me a call to see how I can be of assistance to you.
Brian Berkowitz is a DWI, Criminal Defense and Traffic Ticket Lawyer located in Rockland County New York. Prior to entering the private practice of law in 2002, he worked in the Rockland County District Attorney's Office and served as the Senior Assistant District Attorney in charge of the office's Driving While Intoxicated (DWI) and Vehicular Crimes Bureau.
Law Office of Brian Berkowitz, 222 North Main Street, New City, NY 10956. 845-638-9200.
WEB: www.Berklaw.com
TWITTER: @BerklawBrian
FACEBOOK: Law Office of Brian Berkowitz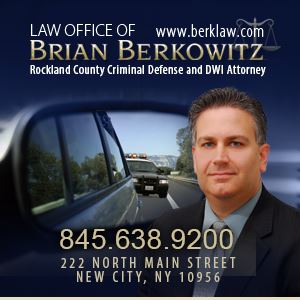 Posted By
Brian Berkowitz
Categories: