2017 HOLIDAY SEASON – DRIVE SOBER OR GET PULLED OVER – ROCKLAND COUNTY DWI ATTORNEY
On December 15, 2017, New York State Governor, Andrew M. Cuomo, announced that the New York State Police and local law enforcement will participate in the national enforcement initiative to crack down on impaired driving this holiday season (click here to read the press release).
In this announcement, the Governor stated: "State Police will participate in the national "Drive Sober or Get Pulled Over" campaign beginning today. Friday, December 15 through Saturday, December 30. State Police will also be conducting an enforcement period over New Year's Eve, from Sunday, December 31, 2017 through Monday, January 1, 2018. Drivers can expect to see sobriety checkpoints, along with more troopers on roadways during both campaigns."
In addition to the DWI checkpoints and patrols, Troopers will be watching for distracted drivers, vehicle occupants who are not properly buckled up, and drivers violating the "Move Over Law," which requires motorists to exercise extreme caution when passing emergency vehicles that are stopped in or on the side of the road. State Police will also conduct underage drinker enforcement details statewide."
The statistics from last year's crackdown are as follows:
Total Tickets Issued: 33,153.
Many DWI arrests begin with a simple traffic stop for one of the above offenses. In Rockland County, the majority of these New York State Police DWI arrests and tickets are for offenses occurring on the Palisades Interstate Parkway, New York State Thruway and the portion of the thruway, just before the Garden State Parkway in Chestnut Ridge, New York.
If you are facing a DWI charge, have received a traffic ticket or been arrested in Rockland County or the State of New York, please me a call at 845-638-9200 to discuss how I can help you.
Brian Berkowitz, is a former prosecutor and a DWI, Criminal Defense and Traffic Ticket Attorney representing clients in Rockland County and the State of New York.
Law Office of Brian Berkowitz, 222 North Main Street, New City, NY 10956. 845-638-9200.
WEB: www.Berklaw.com
TWITTER: @BerklawBrian
FACEBOOK: Law Office of Brian Berkowitz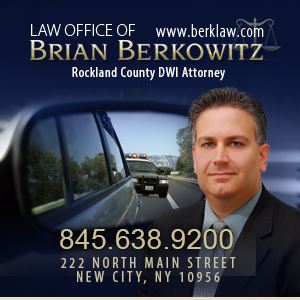 Posted By
Brian Berkowitz
Categories: