SPEEDING TICKETS & ROCK AND ROLL – ROCKLAND COUNTY TRAFFIC TICKET ATTORNEY
Welcome to spring. After a long cold winter in New York, this may be the most excited I have ever been for warm weather and sunshine. For me, each spring, there comes a random day, usually in late April, where the amount of sunshine and temperature come together, compelling me to open all of the windows and the sunroof in my car and be thankful that warmer days are upon us. Accompanying this tradition, there is always one song that I listen to: Unchained by Van Halen.
There is something about Eddie Van Halen's opening riff in this song that make me happy, and for approximately three and half minutes, this song makes me feel like I'm sixteen years old. The problem is that once this song starts, it becomes very hard to obey the speed limit! I bring this up, because I'm not sixteen and much like I can't stay up past 10:00 p.m. anymore, I'm an adult and I don't want to get a speeding ticket.
A few months ago, via Facebook and Twitter, I asked "What song is most likely to cause you to get a speeding ticket?" While I am not going to list all of the responses that I received, it was clear that to many, hearing the right song has the tendency to make us drive too fast.
As far as Speeding tickets go, the State of New York assigns a point system that reflects how much over the speed limit the driver is accused of driving: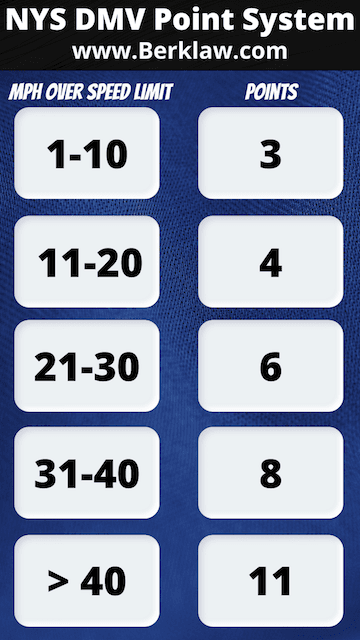 It is important to know that if your New York driving record accumulates 11 or more points within 18 months, the New York State Department of Motor Vehicles will suspend or revoke your license or privilege to drive in New York; this applies to both New York and Out-of-State drivers.
Further, and thanks to the New York State Driver Responsibility Assessment, if you receive 6 or more points in an 18-month period, both New York and Out-of-State drivers become responsible to New York DMV for the payment of $100.00 per year, for three years, for the first 6 points, and an additional $25.00 per point, for three years, for each additional point. To make matters worse, the failure to pay this assessment will result in the suspension of your New York State driving privileges.
Of course, this is the last thing we are thinking about when we are enjoying some long overdue warm weather, listening to our favorite song and perhaps, driving just a little too fast.
As a teenager, enjoying my favorite music generally cost somewhere around $14.00 to buy a record, cassette or CD and however much time it took to make the perfect mix tape. However, and in addition to the $9.99 a month that I pay for my Spotify subscription in 2018, my favorite Van Halen Song, which let's say encourages me to drive 80 mph in a 55 mph zone, would now cost me a fine of $90.00 - $300.00 for this 6 point ticket, a $93.00 surcharge and just to keep pushing the number up, and as shown above, an additional $300.00 for the Driver Responsibility Assessment. Thanks a lot, David Lee Roth!
Thankfully, if you find yourself wishing that you just kept listening to NPR or Sports Radio instead of your favorite Van Halen song, you don't have to simply plead guilty to the ticket. As a Rockland County Traffic Ticket Attorney (and huge music fan), I have helped countless New York and Out-of-State Drivers, resolve their speeding and traffic tickets, lower or eliminate the points, and place them out of harm's way for the dreaded Driver Responsibility Assessment. In almost all situations, this can be accomplished without you ever having to step foot in court!
If you have received a Speeding or Traffic Ticket in Rockland County or anywhere in the State of New York, please feel free to give me a call to discuss your ticket, the name of the song that caused you to get the ticket, and what I can do to help.
Whether you live in New York or were just passing through, you do not have to to plead guilty to the ticket and put yourself at risk for a potential suspension of your driving privileges and the imposition of a Driver Responsibility Assessment.
Finally, and even though Sammy Hagar is my second favorite singer of Van Halen, this discussion wouldn't be complete without, at least, mentioning his 1984 hit, "I can't drive 55"!
Brian Berkowitz, is a former prosecutor and a DWI, Criminal Defense and Traffic Ticket Attorney representing clients in Rockland County and the State of New York.
Law Office of Brian Berkowitz, 222 North Main Street, New City, NY 10956. 845-638-9200.
WEB: www.Berklaw.com
TWITTER: @BerklawBrian
FACEBOOK: Law Office of Brian Berkowitz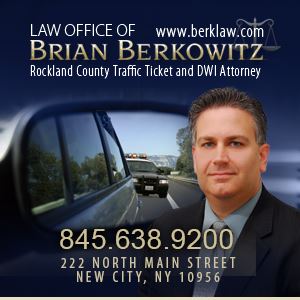 Rockland County Courts and Highways: Town of Clarkstown, Town of Ramapo, Town of Stony Point, Town of Haverstraw, Town of Orangetown, Village of Spring Valley, Village of Suffern, Village of Montebello, Village of New Hempstead, Village of Hillburn, Village of New Square, Village of Grandview, Village of Sloatsburg, Village of West Haverstraw, Village of Chestnut Ridge, Village of Wesley Hills, Village of Haverstraw, Village of Airmont, Village of Piermont, Village of Nyack, Village of South Nyack, New York State Thruway, Interstate 87 (I-87), Palisades Interstate Parkway and Garden State Parkway.
Posted By
Brian Berkowitz
Categories: