SCARY TRAFFIC TICKETS – ROCKLAND COUNTY TRAFFIC TICKET ATTORNEY
Most of us are law abiding citizens and the thought of being pulled over for a traffic infraction is the closest we can imagine to being on the wrong side of the criminal justice system. There are few things that scare us more than seeing flashing lights behind us as we are getting pulled over. For some, including myself, simply seeing a police car driving behind us can be a nerve racking experience.
Now that you've received a ticket, the thought of taking a day off of work, going to and waiting in a courtroom, speaking to the police officer or prosecutor and standing before a judge can be overwhelming and scary!
If you've received a Speeding, Traffic or Cell Phone ticket in Rockland County, New York, you've come to the right place. Although this may be your first ticket, I have helped countless drivers resolve the simplest to the most complex traffic matters. Most importantly, I CAN HELP YOU!
When I say that I am a local Rockland County Attorney, this means that I have lived in Rockland County for more than 45 years and have worked here my entire adult life. I began my legal career as an Assistant District Attorney in Rockland County and over the course of twenty years, I have appeared before the courts in Rockland County on an almost daily basis (truthfully, I take a few weekends and holidays off, and an occasional vacation, but that's it.) These courts include:
Town of Clarkstown, Town of Orangetown, Town of Ramapo, Town of Haverstraw, Town of Stony Point, Village of Spring Valley, Village of Suffern, Village of Nyack, Village of South Nyack, Village of Piermont, Village of Airmont, Village of Haverstraw, Village of Wesley Hills, Village of Chestnut Ridge, Village of West Haverstraw, Village of Sloatsburg, Village of Grandview, Village of New Square, Village of Hillburn, Village of Montebello and Village of New Hempstead.
Most important, hiring me, a Rockland County Speeding/Traffic Ticket attorney, means that in most cases, YOU WILL NEVER HAVE TO STEP FOOT IN A COURTROOM!
If you have received a ticket in Rockland County do not plead guilty to just get it over with! Pleading guilty to a traffic infraction has many consequences, some of which you will never know about until it is too late. For instance, did you know that in the State of New York, regardless of where you are licensed to drive, the accumulation of 6 points in an 18-month period will result in the New York State Department of Motor Vehicles ("NYS DMV") imposing a Driver Responsibility Assessment? This means that in addition to any fines and surcharges imposed by the court, you will receive a separate invoice from NYS DMV charging you $300.00 (payable as $100.00 per year, for three years) for the first six points and $25.00 per point, per year, for three years for each point over the initial 6. Failure to pay this assessment will result in the suspension of your New York State Driving privileges (regardless of where you are licensed.)
Further, if you accumulate 3 speeding convictions or 11 points in an 18-month period, NYS DMV can suspend or revoke your New York State driving privileges (again, regardless of where you are licensed.)
Many people, especially out-of-state drivers, plead guilty thinking that they will pay their fine and move on with their lives. They are then shocked by these hidden consequences, which once imposed, become very difficult and costly to try to undue.
In New York, points are imposed for most traffic offenses. In the case of Speeding Tickets, they are based upon the number of miles per hour ("MPH") over the speed limit and are set as follows: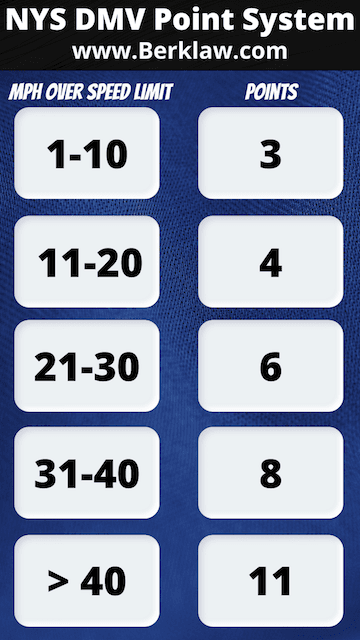 If you receive a ticket for using a portable electronic device (texting) or cell phone, these tickets carry 5 points.
So, you may be asking yourself, what do I do now that I received a traffic or speeding ticket? The answer is very simple: CALL ME FOR A FREE AND DETAILED TELEPHONE CONSULTATION! When we speak, we can discuss your options, what, if anything, I can do for you and what is the best way to handle your specific ticket.
Brian Berkowitz, is a former prosecutor and a DWI, Criminal Defense and Traffic Ticket Attorney representing clients in Rockland County and the State of New York.
Law Office of Brian Berkowitz, 222 North Main Street, New City, NY 10956. 845-638-9200.
WEB: www.Berklaw.com
TWITTER: @BerklawBrian
FACEBOOK: Law Office of Brian Berkowitz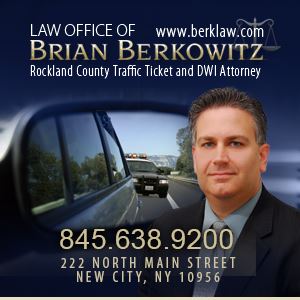 Posted By
Brian Berkowitz
Categories: