TOWN OF ROCKLAND JUSTICE COURT – Rockland Speeding, Cell Phone and Traffic Ticket Attorney
TOWN OF ROCKLAND JUSTICE COURT – Rockland Speeding, Cell Phone and Traffic Ticket Attorney
The Town of Rockland Justice Court is located at 1939 Old Route 17, Roscoe, NY 12776 (Sullivan County.)
Per their website[1], the Town of Rockland, New York is described as follows:
"[Surrounded by the natural beauty of the Catskill Park, Rockland's residents value their country life and the area's ecology. Roscoe is located where the Beaverkill and Willowemoc rivers meet at Junction Pool, and where trout meet their destiny, which is why it's known as "Trout Town USA." The history of these encounters is enshrined in the Catskill Fly Fishing Center and Museum in Livingston Manor, bordering a 50-acre site ideal for walks and picnics.
Mongaup State Park and Beaverkill State Park are both located in Rockland and are open for the public's enjoyment of camping, hunting, fishing and other recreational activities including snowmobiling in the winter on maintained trails.
[The Town of] Rockland is an easy commute from the hub of the county, while providing residents with a great value. School districts are of a size where students receive individual attention. Being located on New York State Route 17 (future Interstate 86) gives residents easy access to other areas for business or pleasure."
As great as this sounds, many of my clients have received Speeding, Cell Phone and Traffic tickets as they head to, from and through this picturesque region of New York. This, of course, presents a problem, as for most people receiving tickets in this area, the Town of Rockland is far away from their home and returning to the court to fight a ticket on their own, is time consuming and inconvenient.
If you have received a Speeding, Cell Phone or Traffic Ticket in the Town of Rockland or anywhere in the State of New York, please DON'T PLEAD GUILTY to simply "get it over with." Although it may seem like the easy way out, most people receiving and/or pleading guilty to tickets aren't aware of the following:
In most instances, a lawyer can resolve a ticket WITHOUT THE NEED FOR THE DRIVER TO PERSONALLY APPEAR IN COURT.
In most instances, a plea bargain will be available, allowing for the ticket to be reduced to a lesser charge with NO POINTS or less points.
If you are convicted of certain traffic offenses in New York State or accumulate six (6) or more points on your NYS Driving Record within eighteen (18) months, you will be subjected to a mandatory Driver Responsibility Assessment ("DRA") which can cost at least an additional $300.00 or more ($100.00 per year, for three years for the first 6 points and $25.00 per year, for three years, for each point over the initial 6.)
Most drivers are surprised to find out about the DRA in the form of a letter/invoice from the New York State Department of Motor Vehicles, long after they plead guilty and pay their fine to the court.
The New York State Driver Responsibility Assessment applies to all drivers, including those licensed by another state and the failure to pay the DRA will result in the suspension of the driver's NYS driving privileges and can possibly affect the out-of-state driving privilege too.
If you are convicted of three (3) Speeding offenses or accumulate eleven (11) points in the State of New York, during an eighteen (18) month period, your New York State Driving Privileges can be suspended or revoked (this applies equally to drivers licensed in the State of New York and Out-of-State drivers.)
If you are an OUT-OF-STATE DRIVER, and depending upon where you are licensed, it is possible that some or all of the points from a New York State ticket can show up on your home state driving record.
In New York, points are imposed for most traffic offenses. In the case of Speeding Tickets, they are based upon the number of miles per hour ("MPH") over the speed limit and are set as follows: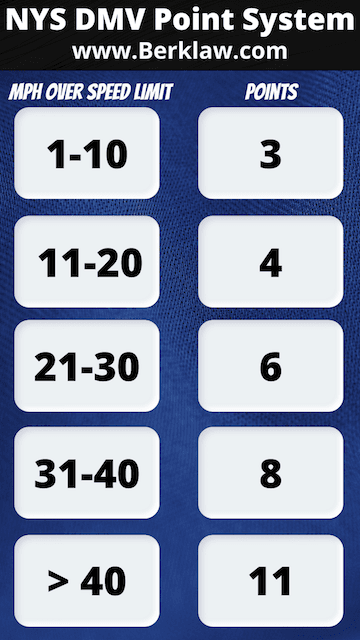 With the above in mind, if you have received a ticket in the Town of Rockland or anywhere in the State of New York, please take a few minutes to give me a call at 845-638-9200 to discuss this matter and what I can do to help. There is never a charge for a consultation and I am always available to take your call.
Brian Berkowitz, is a former prosecutor and a Traffic Ticket, DWI and Criminal Defense Attorney representing clients in Rockland County and throughout the State of New York.
Law Office of Brian Berkowitz, 222 North Main Street, New City, NY 10956. 845-638-9200.
WEB: www.Berklaw.com
TWITTER: @BerklawBrian
FACEBOOK: Law Office of Brian Berkowitz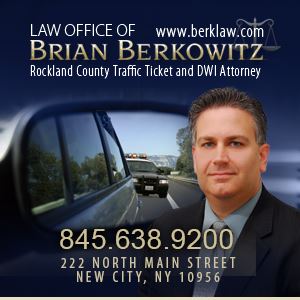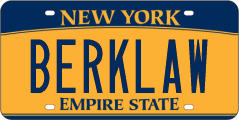 ---
[1] http://www.townofrocklandny.com/about
Posted By
Brian Berkowitz
Categories: