TRAFFIC AND SPEEDING TICKET LAWYER – NEAR ME
Have you received a Traffic or Speeding Ticket in the State of New York?
It is my understanding that when searching for an attorney to assist a motorist with a Traffic or Speeding Ticket in the State of New York, one of the most common searches includes using the term "NEAR ME." Adding this simple term to a Google search, together with your device or computer's location services may be your best bet to help you with your ticket and to find a Traffic and Speeding Ticket lawyer familiar with the charges, and most importantly, familiar with the court in which you must appear.
In most instances, hiring an attorney to assist you with your New York Traffic or Speeding Ticket will allow the attorney to resolve your ticket without you having to personally appear in court.
Having spoken to hundreds of motorists who simply plead guilty to their ticket (and regretted doing so), living too far away from the court or having to take a day off of work or school were the two most common answers to the question: "Why did you plead guilty to this ticket?" Most, had they known that their appearance could be waived, would have hired a lawyer to address the charges.
If you are reading this and you have received a Traffic or Speeding Ticket, you have come to the right place. I began my legal career as an Assistant District Attorney in Rockland County, New York and since 2002, after leaving the DA's Office to open my own law practice, I have faithfully represented countless individuals who have received Traffic or Speeding Tickets, been arrested for Driving While Intoxicated (DWI / DUI) or any other matter requiring the assistance of a Criminal Defense Attorney. If this is the first ticket you have ever received or the 100th, I can help. Once you contact me, you will learn:
As stated above, in most instances, an attorney can fight a ticket WITHOUT THE NEED FOR THE DRIVER TO PERSONALLY APPEAR IN COURT.
In most instances, a plea bargain will be available, allowing for the ticket to be reduced to a lesser charge with NO POINTS or less points.
If you are convicted of certain traffic offenses in New York State or accumulate 6 or more points on your NYS Driving Record within 18 months, you will be subjected to a mandatory Driver Responsibility Assessment ("DRA") which can cost at least an additional $300.00 or more ($100.00 per year, for three years for the first 6 points and $25.00 per year, for three years, for each point over the initial 6.)
Most drivers are surprised to find out about the DRA in the form of a letter/invoice from the New York State Department of Motor Vehicles, long after they plead guilty and pay their fine to the court.
The New York State Driver Responsibility Assessment applies to all drivers, including those licensed by another state and the failure to pay the DRA will result in the suspension of the driver's NYS driving privileges and can possibly impact the out-of-state driving privilege too.
If you are convicted of 3 Speeding offenses or accumulate 11 points in the State of New York, during an 18 month period, your New York State Driving Privileges can be suspended or revoked (this applies equally to drivers licensed in the State of New York and Out-of-State drivers.)
A ticket for talking on a Cell Phone or using an electronic device while operating a motor vehicle is a 5 point violation, even for a first offense.
If you are an OUT-OF-STATE driver, and depending upon where you are licensed, it is possible that some or all of the points from a New York State ticket can show up on your home state driving record.
In New York, points are imposed for most traffic offenses. In the case of Speeding Tickets, they are based upon the number of miles per hour ("MPH") over the speed limit and are set as follows: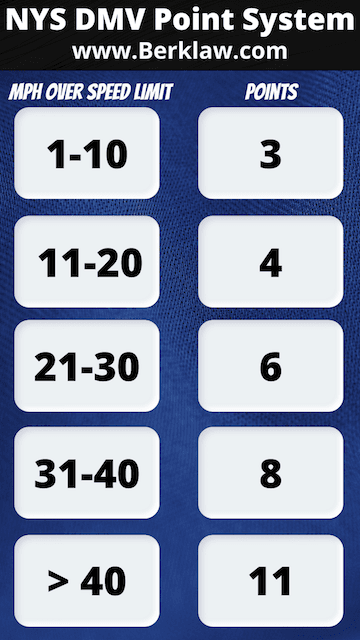 With the above in mind, if you have received a ticket anywhere in the State of New York, please give me a call at 845-638-9200 to discuss this matter and what I can do to help. There is never a charge for a consultation, I am always available and happy to take your call and glad to be the attorney who you will find to always be "NEAR ME" whenever you search for a lawyer.
Brian Berkowitz, is a former prosecutor and a Traffic Ticket, DWI and Criminal Defense Attorney representing motorists in Rockland County, Sullivan County, Westchester County, Orange County, Dutchess County, Putnam County and throughout the State of New York.
Law Office of Brian Berkowitz, 222 North Main Street, New City, NY 10956. 845-638-9200.
Please feel free to use my Contact Form for an immediate call back!
Rockland County, Sullivan County, Westchester County, Orange County, Dutchess County, Putnam County, Ulster County (and all other Counties in the State of New York.)
WEB: www.Berklaw.com
TWITTER: @BerklawBrian
FACEBOOK: Law Office of Brian Berkowitz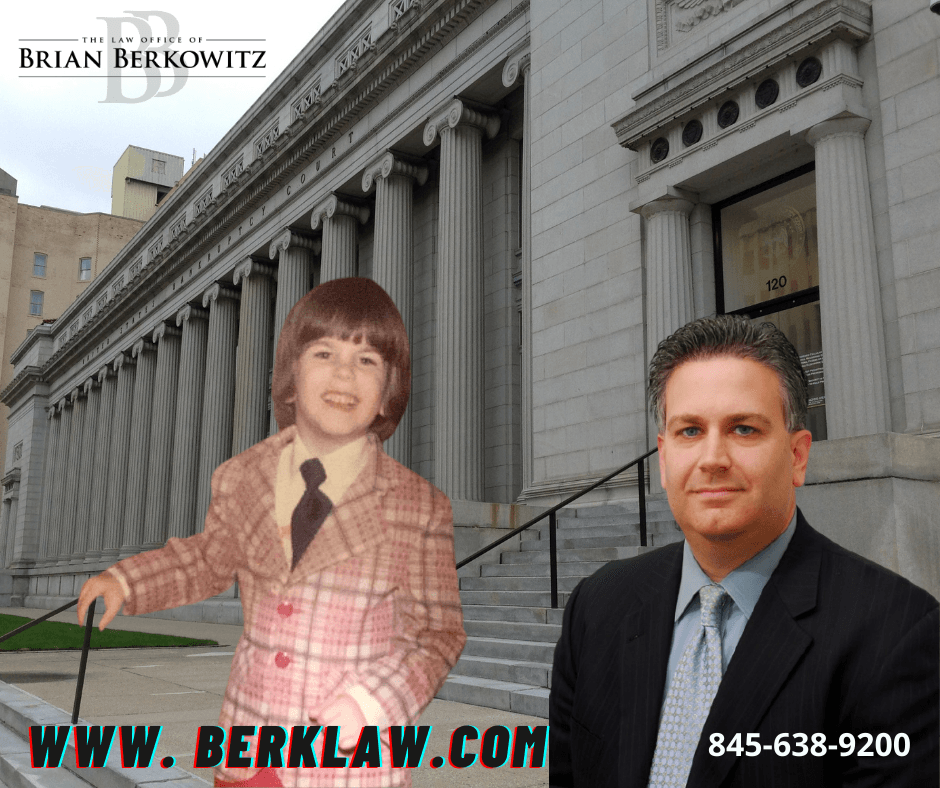 Posted By
Brian Berkowitz
Categories: