TOWN OF STONY POINT JUSTICE COURT – ROCKLAND COUNTY SPEEDING, CELL PHONE AND TRAFFIC TICKET ATTORNEY
Fun Fact: Pursuant to Wikipedia, "…Stony Point is a triangle-shaped town in Rockland County, New York and is located north of the Town of Haverstraw, east and south of Orange County, New York, and west of the Hudson River and Westchester County."
If you are reading this article and recently received a Speeding, Traffic or Cell Phone Ticket or were arrested for DWI or any other offense in the Town of Stony Point or the State of New York, the shape and geographic information of this town are likely of little or no concern to you.
That being said, and in all likelihood, you were traveling on the Palisades Interstate Parkway (where the speed limit is 55 miles per hours), heading to Bear Mountain State Park and/or driving around town when you crossed paths with a police officer working for one of the many police agencies having jurisdiction over the town's highways and byways: Town of Stony Point Police Department, New York State Police, New York State Park Police and the Rockland County Sheriff's Department.
The Town of Stony Point Justice Court is located at 6 Patriot Hills Lane, Stony Point, New York 10980 (845-786-2506.) Per their website, "[t]he Stony Point Justice Court adjudicates civil and criminal cases, vehicle and traffic offenses, landlord-tenant cases, and small claims. The Court also adjudicates all violations of the Town Code and most violations of New York State Environmental Law."
Having lived and worked in Rockland County for almost all of my life, I have appeared before the Town of Stony Point Justice Court on countless occasions as both a prosecutor (former Senior Assistant District Attorney and supervisor of the Rockland County District Attorney's office's Vehicular Crimes Bureau) and as a defense attorney.
For most drivers, when they read the words "Town of Stony Point" on their ticket, it is probably the first time they have ever realized that this triangular-shaped municipality exists and this, of course, presents a problem, as for most people receiving tickets in this area, the Town of Stony Point is nowhere near their home and returning to the court to fight a ticket on their own, is time consuming and inconvenient.
If you have received a Speeding, Cell Phone or Traffic Ticket in the Town of Stony Point or anywhere in the State of New York, please DON'T PLEAD GUILTY to simply "get it over with." Although, at first glance, it may seem like the easy way out, most people receiving and/or pleading guilty to tickets are not aware of the following:
In most instances, a Stony Point Traffic Ticket Lawyer can fight a ticket WITHOUT THE NEED FOR THE DRIVER TO PERSONALLY APPEAR IN COURT.
In most instances, a plea bargain will be available, allowing for the ticket to be reduced to a lesser charge with NO POINTS or less points.
If you are convicted of certain traffic offenses in New York State or accumulate six (6) or more points on your NYS Driving Record within eighteen (18) months, you will be subjected to a mandatory Driver Responsibility Assessment ("DRA") which can cost at least an additional $300.00 or more ($100.00 per year, for three years for the first 6 points and $25.00 per year, for three years, for each point over the initial 6.)
Most drivers are surprised to find out about the DRA in the form of a letter/invoice from the New York State Department of Motor Vehicles, long after they plead guilty and pay their fine to the court.
The New York State Driver Responsibility Assessment applies to all drivers, including those licensed by another state and the failure to pay the DRA will result in the suspension of the driver's NYS driving privileges and can possibly affect the out-of-state driving privilege too.
If you are convicted of three (3) Speeding offenses or accumulate eleven (11) points in the State of New York, during an eighteen (18) month period, your New York State Driving Privileges can be suspended or revoked (this applies equally to drivers licensed in the State of New York and Out-of-State drivers.)
If you are an OUT-OF-STATE driver, and depending upon where you are licensed, it is possible that some or all of the points from a New York State ticket can show up on your home state driving record.
In New York, points are imposed for most traffic offenses. In the case of Speeding Tickets, they are based upon the number of miles per hour ("MPH") over the speed limit and are set as follows: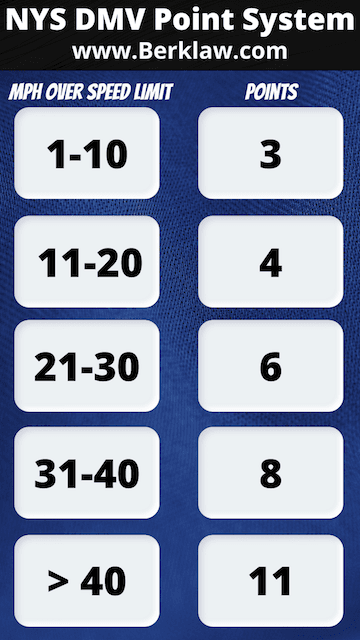 With the above in mind, and if you have received a ticket in the Town of Stony Point or anywhere in the State of New York, please take a few minutes to give me a call at 845-638-9200 to discuss this matter and what I can do to help. There is never a charge for a consultation and I am always available to take your call.
Brian Berkowitz, is a former prosecutor and a Traffic Ticket, DWI and Criminal Defense Attorney representing clients in Rockland County and throughout the State of New York - Stony Point Speeding Ticket Attorney.
Law Office of Brian Berkowitz, 222 North Main Street, New City, NY 10956. 845-638-9200.
WEB: www.Berklaw.com
TWITTER: @BerklawBrian
FACEBOOK: Law Office of Brian Berkowitz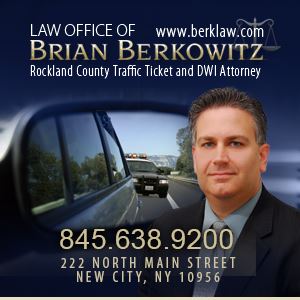 Posted By
Brian Berkowitz
Categories: