DO NOT PLEAD GUILTY TO YOUR ROCKLAND COUNTY (NY) SPEEDING, TRAFFIC OR CELL PHONE TICKET WITHOUT READING THIS!!!
Whether you were visiting or simply passing through ROCKLAND COUNTY, New York, if you received a Speeding, Traffic or Cell Phone Ticket, the last thing you should do is plead guilty without calling me. During this Free Consultation, you will learn:
In most instances, a Rockland County Traffic Ticket Attorney can fight a ticket WITHOUT THE NEED FOR THE DRIVER TO PERSONALLY APPEAR IN COURT.
In most instances, a plea bargain will be available, allowing for the ticket to be reduced to a lesser charge with NO POINTS or less points.
If you are convicted of certain traffic offenses in New York State or accumulate 6 or more points on your NYS Driving Record within 18 months, you will be subjected to a mandatory Driver Responsibility Assessment ("DRA") which can cost at least an additional $300.00 or more ($100.00 per year, for three years for the first 6 points and $25.00 per year, for three years, for each point over the initial 6.)
Most drivers are surprised to find out about the DRA in the form of a letter/invoice from the New York State Department of Motor Vehicles, long after they plead guilty and pay their fine to the court.
The New York State Driver Responsibility Assessment applies to all drivers, including those licensed by another state and the failure to pay the DRA will result in the suspension of the driver's NYS driving privileges and can possibly impact the out-of-state driving privilege too.
If you are convicted of 3 Speeding offenses or accumulate 11 points in the State of New York, during an 18-month period, your New York State Driving Privileges can be suspended or revoked (this applies equally to drivers licensed in the State of New York and Out-of-State drivers.)
If you are an OUT-OF-STATE driver, and depending upon where you are licensed, it is possible that some or all of the points from a New York State ticket can show up on your home state driving record.
In New York, points are imposed for most traffic offenses. In the case of Speeding Tickets, they are based upon the number of miles per hour ("MPH") over the speed limit and are set as follows: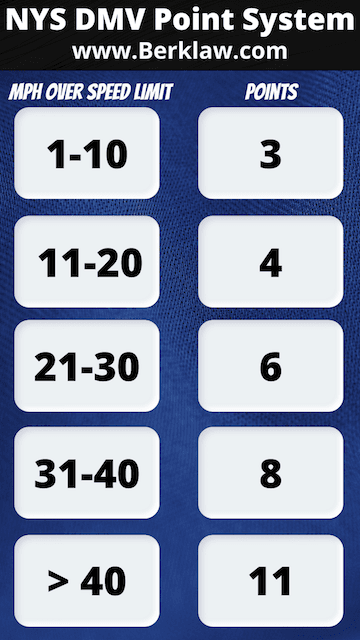 Too many times, I have spoken to NY and Out-of-State drivers who, after trying to go it alone, conducting endless Google searches and doing their best to figure out how to handle a Speeding, Traffic or Cell Phone Ticket, simply plead guilty to "get it over with" and end up regretting their decision.
If you have received a Speeding, Traffic or Cell Phone Ticket anywhere in the State of New York, please call me discuss your matter and what I can do to help.
Brian Berkowitz, is a former prosecutor and a Traffic Ticket, DWI and Criminal Defense Attorney representing clients in Rockland County, Sullivan County, Westchester County, Orange County, Dutchess County, Putnam County and throughout the State of New York.
Law Office of Brian Berkowitz, 222 North Main Street, New City, NY 10956. 845-638-9200.
WEB: www.Berklaw.com
TWITTER: @BerklawBrian
FACEBOOK: Law Office of Brian Berkowitz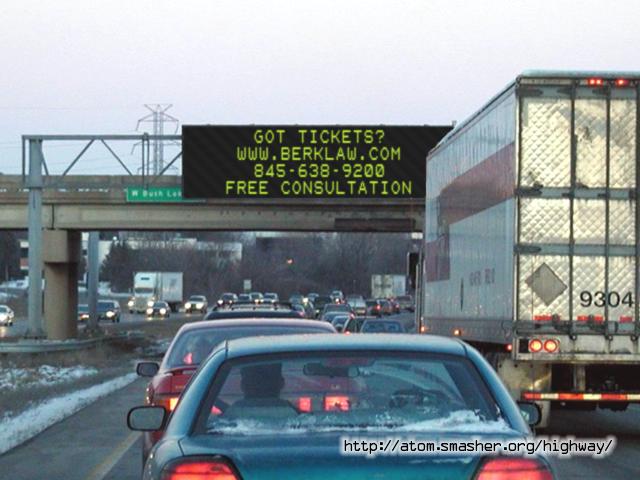 ROCKLAND COUNTY COURTS
Airmont Village Court, 251 Cherry Lane, Tallman, NY 10982 - 845-357-3980 (Airmont Speeding Ticket Lawyer)
Chestnut Ridge Village Court, 277 Old Nyack Turnpike, Chestnut Ridge, NY 10977 - 845-425-3108 (Chestnut Ridge Speeding Ticket Lawyer)
Clarkstown Town Court, 20 Maple Avenue, New City, NY 10956 - 845-639-5960 (Clarkstown Speeding Ticket Lawyer)
Grand View-on-Hudson Village Court, 118 River Road, Grand View Hudson, NY 10960 - 845-358-2919 (Grandview on Hudson Speeding Ticket Lawyer)
Hillburn Village Court, 31 Mountain Avenue, Hillburn, NY 10931 - 845-357-2036 (Hillburn Speeding Ticket Lawyer)
Haverstraw Town Court, One Rosman Road, Garnerville, NY 10923 - 845- 947-0020 (Haverstraw Speeding Ticket Lawyer)
Haverstraw Village Court, 40 New Main Street, Haverstraw, NY 10927 - 845-947-4063 (Haverstraw Speeding Ticket Lawyer)
Montebello Village Court, 1 Montebello Road, Montebello, NY 10901 - 845-368-2211 (Montebello Speeding Ticket Lawyer)
New Hempstead Village Court, 108 Old Schoolhouse Road, New City, NY 10956 - 845-354-8100 (New Hempstead Speeding Ticket Lawyer)
New Square Village Court, 766 North Main Street, Spring Valley, NY 10977 - 845-354-5778 (New Square Speeding Ticket Lawyer)
Nyack Village Court, 9 North Broadway, Nyack, NY 10960 - 845-358-4464 (Nyack Speeding Ticket Lawyer)
Orangetown Town Court, 26 Orangeburg Road, Orangeburg, NY 10962 - 845-359-5100 (Orangetown Speeding Ticket Lawyer)
Piermont Village Court, 478 Piermont Avenue, Piermont, NY 10968 - 845-359-0345 (Piermont Speeding Ticket Lawyer)
Ramapo Town Court, 237 Route 59, Suffern, NY 10901 - 845-357-5100 (Ramapo Speeding Ticket Lawyer)
Sloatsburg Village Court, 96 Orange Turnpike, Sloatsburg, NY 10974 - 845-753-5506 (Sloatsburg Speeding Ticket Lawyer)
South Nyack Village Court, 282 South Broadway, South Nyack, NY 10960 - 845-358-5078 (South Nyack Speeding Ticket Lawyer)
Spring Valley Village Court, 200 North Main Street, Spring Valley, NY 10977 - 845-352-1100 (Spring Valley Speeding Ticket Lawyer)
Stony Point Town Court, 6 Patriot Hills Drive, Stony Point, NY 10984 - 845- 786-2506 (Stony Point Speeding Ticket Lawyer)
Suffern Village Court, 61 Washington Avenue, Suffern, NY 10901 - 845-357-6424 (Suffern Speeding Ticket Lawyer)
Wesley Hills Village Court, 432 Route 306, Wesley Hills, NY 10952 - 845-354-0404 (Wesley Hills Speeding Ticket Lawyer)
West Haverstraw Village Court, 130 Samsondale Avenue, West Haverstraw, NY 10993 - 845-947-1013 (West Haverstraw Speeding Ticket Lawyer)
Posted By
Brian Berkowitz
Categories: